[ad_1]

Made with savory sourdough bread, crispy bacon, colorful bell peppers, flavorful mushrooms, and creamy eggs, this breakfast casserole is a crowd-pleaser that's sure to become a breakfast staple in your home.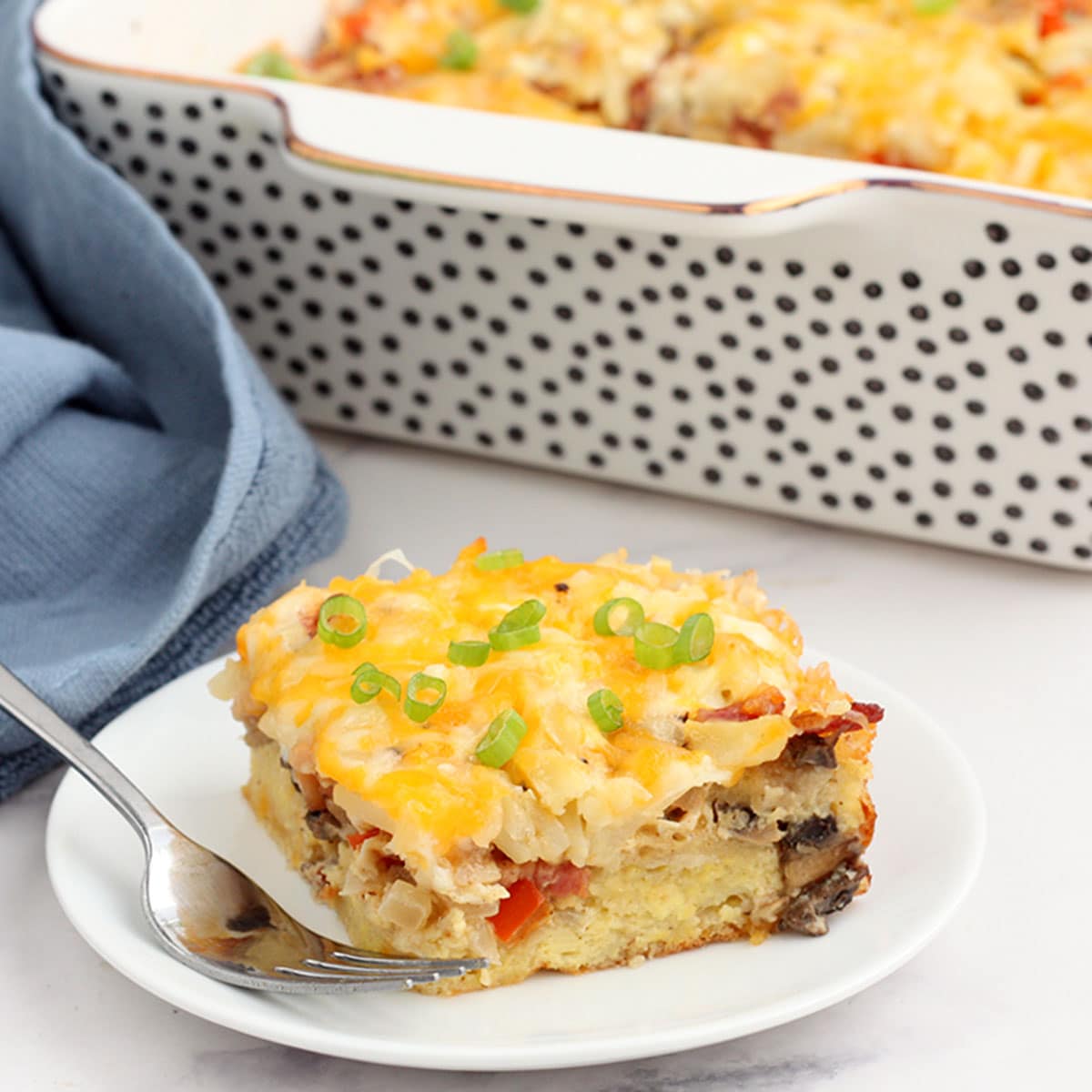 How to Make Breakfast Casserole
Breakfast casserole in my opinion is one of the easiest breakfast dishes to make.  There isn't an over mixing issue, or burning of anything on a griddle, or over cooking eggs on a pan.  It all just does its think right in the pan while you get to run around doing all your morning things. This is one of our favorite things to make on holidays – especially Christmas morning! 
To make this casserole, start by preheating your oven to 350°F. Then, cook the bacon in a large skillet until it's crispy, and set it aside to cool. Next, dice the bell peppers, onions and mushrooms, and sauté them in the same skillet until they're tender.
While the vegetables are cooking, whisk together the eggs, cottage cheese, milk and shredded cheddar cheese in a large bowl.   Layer the sourdough bread, frozen hash browns, and veggie mixture in a 9×13 baking dish.   Pour the egg mixture over everything and stir to combine. 
The great thing about breakfast casserole is that you can make it ahead and then let it sit in your fridge until you are ready to bake it.  The longer it sits, the more the flavors combine and so at least 30 minutes is recommended.  But you can let it sit overnight and then bake in the morning!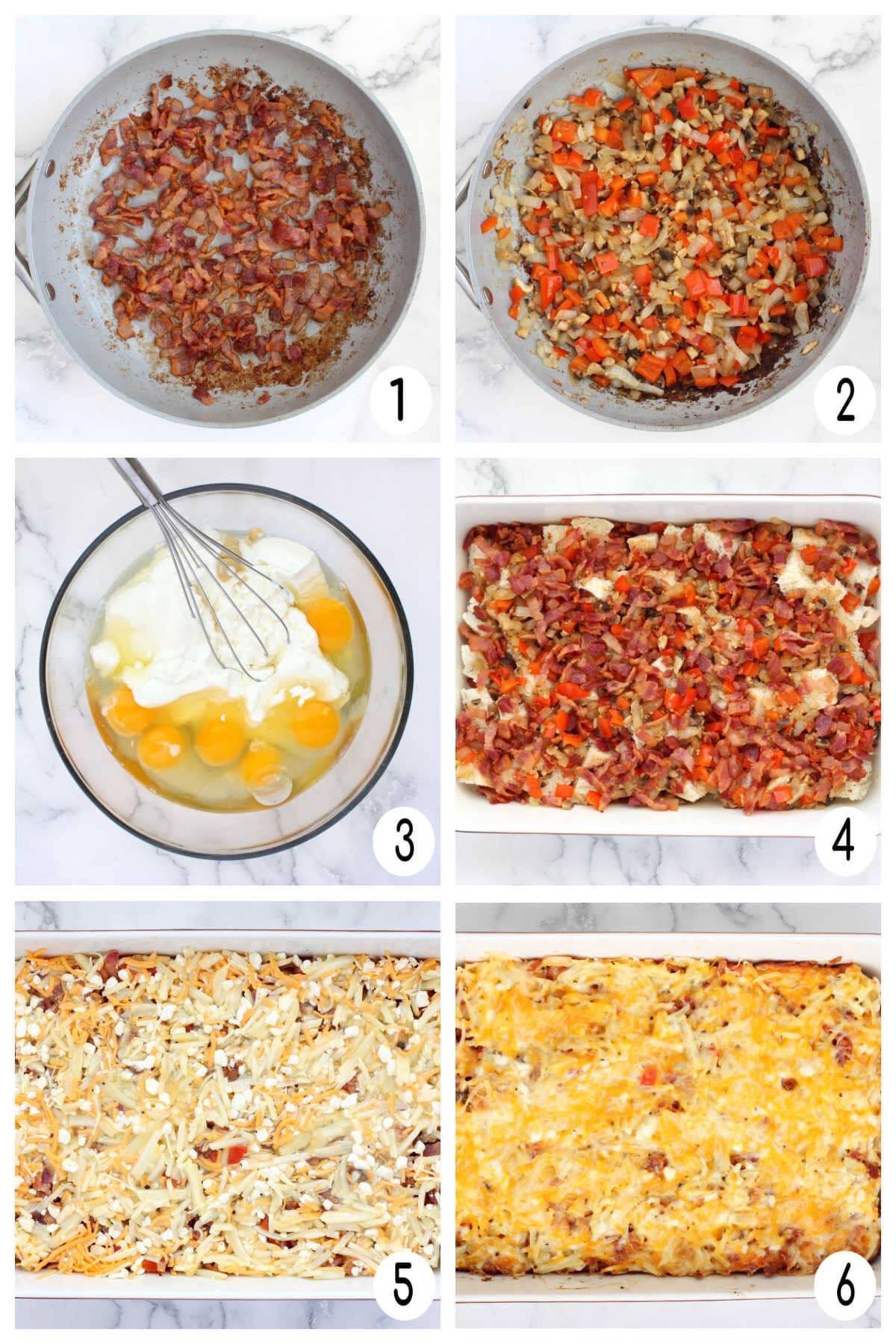 Ingredients Needed for this Recipe
These ingredients are delicious, but you can swap them out to your preferences and dietary needs. You can use different types of bread, meats, vegetables, and cheese, or add in additional ingredients like spinach, ham, or tofu. Feel free to get creative and make the casserole your own!
Sourdough Bread – I prefer sourdough bread because it has a dense crumb that holds up well in a breakfast casserole and also gives a delicious flavor
Bacon – thick cut bacon adds that delicious salty flavor and holds up its texture without getting soggy
Hash browns – frozen hash browns work best
Onion – yellow or white
Bell Pepper – I like to use red bell pepper to add a pop of color
Garlic – pre-minced or cloves are great
Mushrooms  – you can use any kind you like, but i like to use white button in this recipe
Eggs – large eggs are what is called for
Cottage Cheese – small curd works best
Milk – you can use any type of unsweetened milk for this, but a higher fat percentage will give you a richer flavor and texture. 
Cheddar Cheese – you can use medium or sharp cheddar.  
Best Veggies for Breakfast Casserole
There are lots of vegetables that work well in a breakfast casserole, and really it comes down to your personal preferences.   Here are a few vegetables that are commonly used in breakfast casseroles and how they can add flavor and nutrients to your dish:
Bell peppers: Bell peppers add a pop of color and a sweet, mild flavor to a casserole. They're also a good source of vitamin C and other antioxidants.
Onions: Onions add depth of flavor to a casserole and can help to balance out the richness of the eggs and cheese. They're also a good source of vitamin C, potassium, and other nutrients.
Spinach: Spinach adds a boost of nutrients to a casserole, including vitamins A and K, folate, and iron. It's also a good way to add more greens to your diet.
Mushrooms: Mushrooms add a savory, earthy flavor to a casserole and are a good source of vitamin D and other nutrients.
Tomatoes: Tomatoes add a burst of flavor and color to a casserole, and they're a good source of vitamins A and C, potassium, and lycopene.
Broccoli: Broccoli adds a crunchy texture and a boost of nutrients to a casserole, including vitamins C and K, fiber, and antioxidants.
You can use any of these vegetables on their own or mix and match to create a casserole that's tailored to your taste. Don't be afraid to experiment and try new vegetables to see what you like best!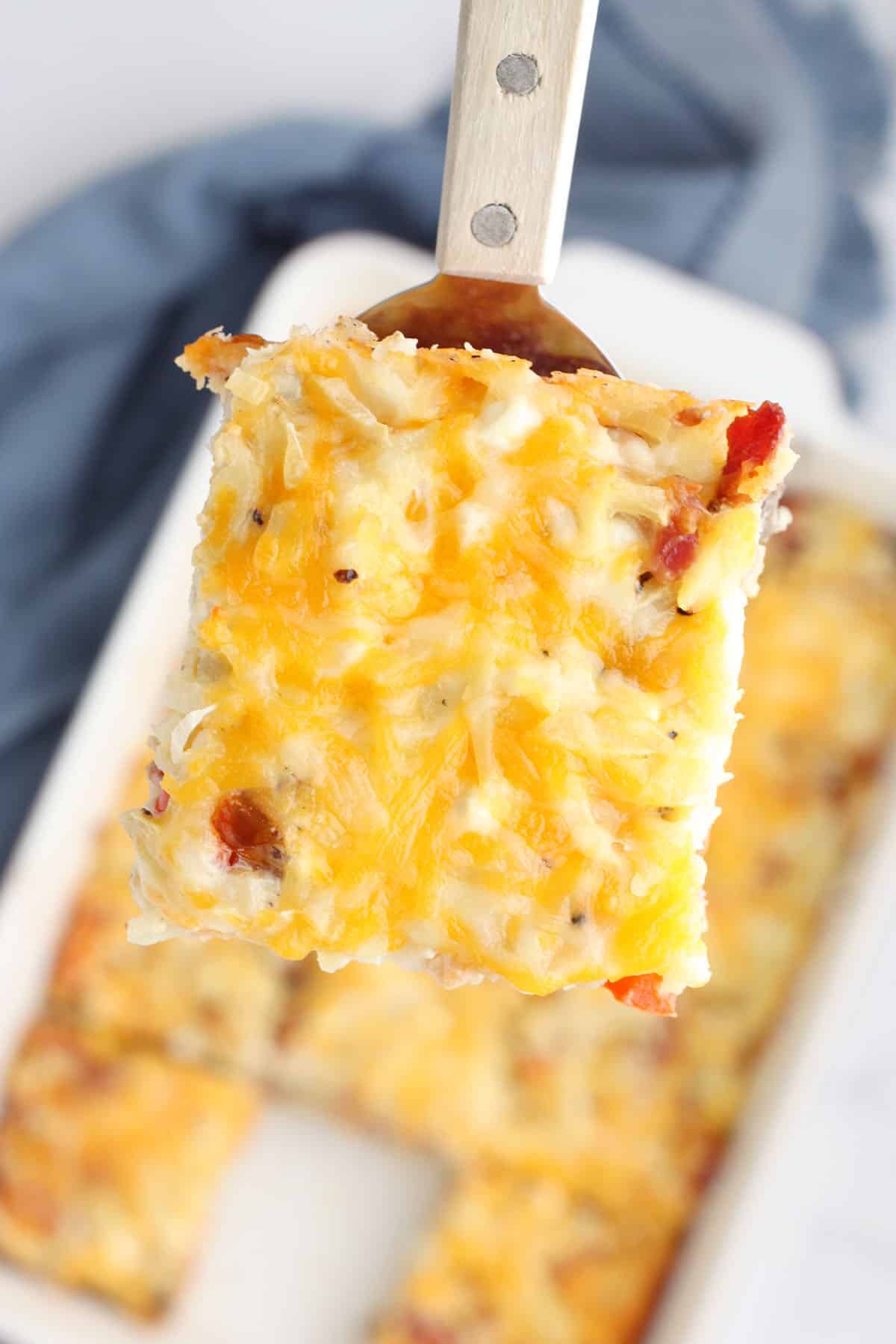 Do You Have to Refrigerate Breakfast Casserole Overnight?
There are a few reasons why some breakfast casseroles call for letting it refrigerate overnight before cooking:
To allow the flavors to combine and deepen: When ingredients are combined and left to sit for a period of time, their flavors combine resulting in a more flavorful casserole.
To save time in the morning: If you're short on time in the morning, making a breakfast casserole the night before allows you to pop it in the oven and have a hot, delicious breakfast ready when you wake up.
To make meal prep easier: Preparing a breakfast casserole in advance can make meal prep easier for the week. You can make a large batch and portion it out for breakfast throughout the week, or freeze individual servings for a quick and easy breakfast option.
Do You Cover a Breakfast Casserole When Baking it?
It depends on the specific recipe and the type of casserole you're making. Here are a few things to consider when deciding whether or not to cover a breakfast casserole:
The type of casserole: Some breakfast casseroles, such as those made with bread or other ingredients that are prone to drying out, may benefit from being covered while baking to keep them from becoming too dry. On the other hand, casseroles made with ingredients that are prone to becoming soggy, such as eggs, may not need to be covered.
The desired texture: If you prefer a crispy, golden brown top on your casserole, you may want to leave it uncovered while baking. A lot of breakfast casserole recipes call to cover it for the majority of the baking time, and then remove the foil and let the top get browned and crispy. 
The baking time: If the casserole is baking for a long time, it will help to cover with foil to prevent the top from becoming too brown.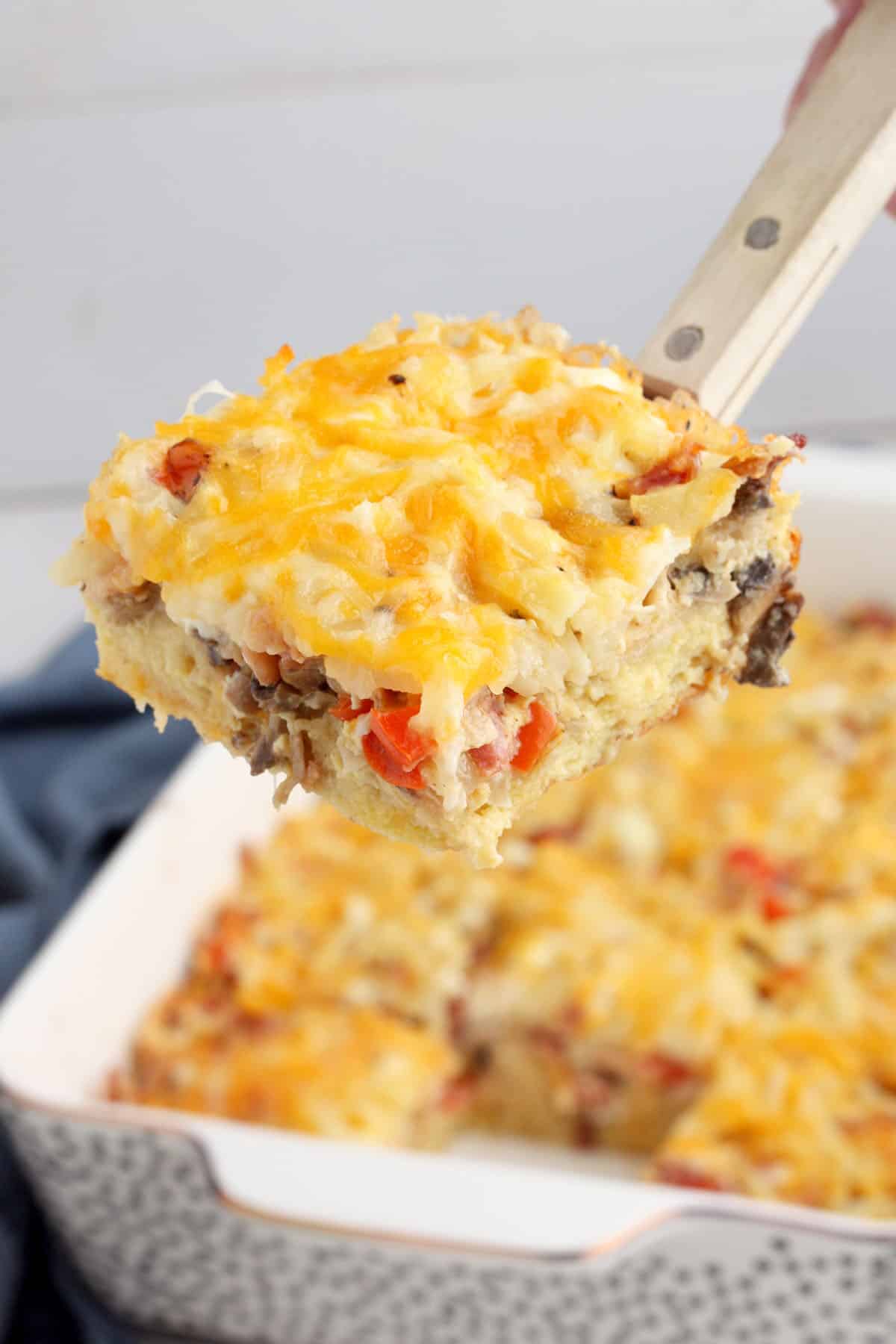 How Do you Know When Breakfast Casserole is Done?
There are a few ways to tell when a breakfast casserole is done cooking:
The edges of the casserole are golden brown and the top is slightly crispy: This is a good indication that the casserole is cooked through and the ingredients are fully heated.
The casserole is set and doesn't jiggle when you shake the pan: This is another sign that the casserole is cooked through and the eggs are fully cooked.
The internal temperature of the casserole reaches at least 165°F: Using a food thermometer is the most accurate way to determine if a casserole is fully cooked. Insert the thermometer into the center of the casserole and make sure the temperature reaches at least 165°F.
If you're unsure if the casserole is done, you can always cut into it and check the center to make sure it's fully cooked. If the casserole is still undercooked, you can return it to the oven and cook it for a few more minutes until it's done.
Why is My Breakfast Casserole Runny? 
There are a few reasons why a breakfast casserole may turn out runny:
The eggs were overcooked: If the eggs are overcooked, they can become rubbery and release excess liquid, resulting in a runny casserole. To avoid this, be sure to follow the recipe and cook the eggs for the recommended amount of time.
The casserole was underbaked: If the casserole is underbaked, the eggs may not be fully cooked, resulting in a runny consistency. To ensure that the casserole is fully cooked, be sure to bake it for the recommended amount of time and use a food thermometer to check the internal temperature.
The casserole was made with too much liquid: If the casserole contains too much liquid, it can result in a runny consistency. To avoid this, be sure to follow the recipe and measure the ingredients accurately.
If your breakfast casserole turns out runny, you can try returning it to the oven and cooking it for a few more minutes to see if that helps to firm it up. Alternatively, you can try adding a few tablespoons of breadcrumbs or shredded cheese to the casserole to help absorb some of the excess liquid.
How To Store and Reheat Breakfast Casserole
To store a breakfast casserole:
Let the casserole to cool completely. If the casserole is still hot, it can raise the temperature of the refrigerator and potentially spoil other foods.
Cover the casserole tightly with plastic wrap or aluminum foil. 
Store the casserole in the refrigerator for no more than 3-4 days. After that, the casserole may start to lose its quality.
To reheat a breakfast casserole, follow these steps:
Preheat your oven to 350°F.
Remove the plastic wrap or aluminum foil from the casserole.
Cover the casserole with foil and bake it for 15-20 minutes, or until it's heated through.
If the casserole is still cold in the center after 15-20 minutes, continue baking for an additional 5-10 minutes, or until the casserole is hot and the top is crispy.
If you just want to reheat a small portion of the casserole, you can do it in the microwave. Place a single serving of the casserole in a microwave-safe dish, cover it with a paper towel, and microwave it for 30 seconds to 1 minute, or until it's heated through.
How Long Does Breakfast Casserole Last in the Fridge?
Once your casserole is baked, it will stay good in the fridge up to about 4 days.  After that, the texture or flavor might start to get a bit off.
What goes with breakfast casserole?
Fresh fruit: A fruit salad or sliced fresh fruit can add a refreshing and healthy element to a breakfast casserole. Berries, oranges, apples, and pears are all good options.
Yogurt or smoothies: Yogurt or a smoothie can provide a cool and creamy contrast to a savory casserole. You can also add some fruit or vegetables to the smoothie for an extra boost of nutrients.
If you like make-ahead breakfast dishes, try these too:
1/2

loaf

sourdough bread

5 cups cubed

1

pound

bacon

thick cut

1

medium

red bell pepper

diced

1/2

medium

onion

diced

1

cup

mushrooms

diced

2

cloves

garlic

minced

2

cups

frozen hash browns

1 1/2

cups

cheddar cheese

shredded

12

large

eggs

1/2

cup

milk

1/2

cup

cottage cheese

small curd

1/2

tsp

salt

1/2

tsp

black pepper

ground
Preheat oven to 350 degrees F. Grease a 9×13-inch baking dish; set aside.

Cut bacon in bite size pieces. Heat a large skillet over medium heat, and add bacon pieces. Cook until crispy and then drain the grease and set bacon aside.

Add diced onion, peppers, mushrooms and garlic. Saute until everything has slightly softened, about 5–6 minutes.

Cut bread into cubes and layer on the bottom of your baking dish. Top with the sauteed veggies, bacon pieces, frozen hash browns and 1 1/2 cups of the cheese. Stir so that the ingredients are evenly distributed.

In a separate mixing bowl, whisk together eggs, milk, cottage cheese, salt and pepper. Pour egg mixture over everything in the pan. Sprinkle with remaining cheese on top.

Cover casserole with plastic wrap or aluminum foil and refrigerate for at least 30 minutes and up to 24 hours. (When ready to bake, allow to sit at room temperature for 10–15 minutes as oven preheats.)

Cover with foil and bake for 1 hour removing the foil 15-20 minutes before finishing.
Calories: 282kcal | Carbohydrates: 3g | Protein: 28g | Fat: 18g | Saturated Fat: 10g | Polyunsaturated Fat: 1g | Monounsaturated Fat: 3g | Trans Fat: 0.02g | Cholesterol: 255mg | Sodium: 1438mg | Potassium: 161mg | Fiber: 0.4g | Sugar: 2g | Vitamin A: 747IU | Vitamin C: 13mg | Calcium: 150mg | Iron: 1mg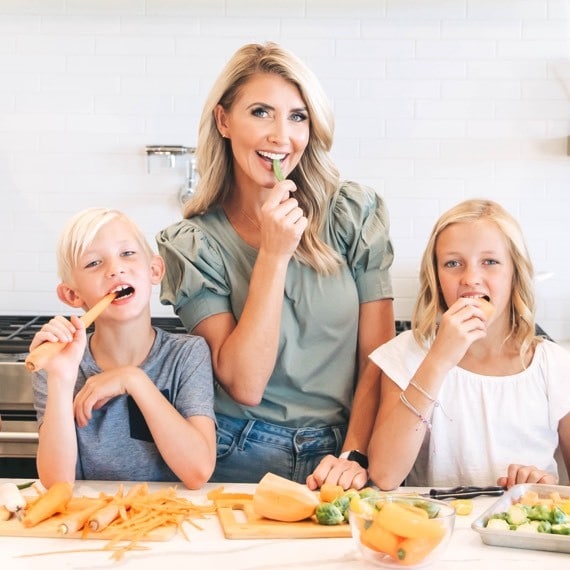 Natalie Monson
I'm a registered dietitian, mom of 4, avid lover of food and strong promoter of healthy habits. Here you will find lots of delicious recipes full of fruits and veggies, tips for getting your kids to eat better and become intuitive eaters and lots of resources for feeding your family.
[ad_2]

Source link